Are you looking for a HEPA air purifier in Australia that can be installed into a new or existing Brisbane commercial space with ease?
Armitage Electrical is proud to be your local qualified electrical team who are among the first to be fitting the latest, dual-purpose lighting and air purification technology in one streamlined ceiling fixture.
The Aether LED Troffer by Pierlite is the ideal solution for many offices and commercial premises including medical centres, hospitals, schools and more, as it can be fastened safely in any setting – including a retrofit or new construction.
Plus, this air purification system is highly effective at ridding a space of airborne pathogens (99.995% in fact!) with its in-built Medical Grade HEPA (High-Efficiency Particulate Air) filter and UV-C technology.
In this blog we share the 3 different ways your new Aether LED Troffer can be mounted.
3 Installation Options for Aether LED Troffer
The Aether LED Troffer has been engineered so it perfectly fits into a standard troffer space.
Lighting troffers are commonplace in commercial ceilings as they are designed to fit into modular drop ceiling (usually square grid or T-bar). So, you have the option to switch an existing troffer out for the new Aether LED version that won't just light, but also purify the air!
And while this will work for the majority of commercial tenancies, there are two other mounting options meaning this product will work for almost every commercial application imaginable, just ask us!
Aether LED Troffer Specifications
Size

: L1190 X W290 X H98.5

Finish

: Powder coat white

Weight:

7.5kg
Recessed: This is the standard option.
Many offices around Australia have a grid or T-bar ceiling, and the Aether has been designed so it can be embedded into a standard troffer space.
Not only does this make this solution an easy one for many offices, but having the fitting recessed into the ceiling means the system is inconspicuous and blends in seamlessly.
Plus, this air purifier is fitted with a standard flex and plug, which makes installation and operation a breeze in most T-bar ceilings.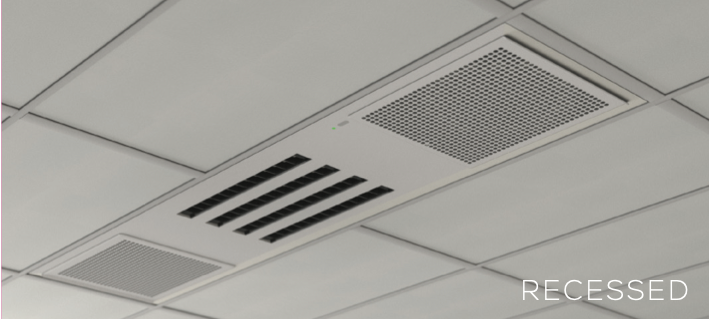 Surface:
Those who don't have this style of ceiling can have the unit mounted to the surface.
As the unit is fairly compact and comprised of sleek lines, it can remain fairly inconspicuous when surface-mounted as well.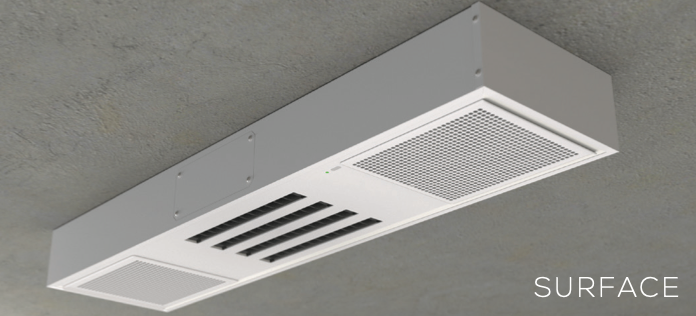 Suspended:
The third option is to have the Aether LED Troffer suspended from the ceiling.
This configuration includes a safety rope for as a precaution for any seismic activity.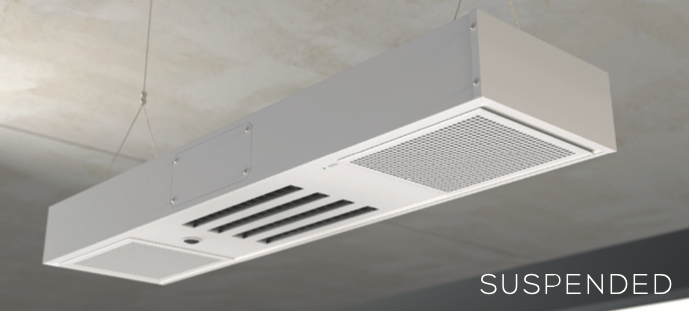 HEPA Air Purifier Australia
This air purifier combines utilises an in-built H13 Medical Grade HEPA filter and an a concealed UVC LED disinfection chamber to cleanse the air that passes through the fitting.
It is such an effective method that it cleanses the air of 99.995% of airborne pathogens such as COVID-19 and influenza.
If you would like to learn more about the features and benefits of this air purifier, click here.
Alternatively, if you're ready to discuss your installation options with a qualified electrician in Brisbane, please call our team today on 1800 230 400 or send us a message here.

Armitage Electrical are your fully qualified and licensed, trustworthy, professional and reliable electricians North Brisbane.
With all-inclusive up-front pricing, Armitage Electrical provides the highest quality electrical, maintenance or repairs on hot water systems, switchboard and mains upgrades, and pool and shed wiring for your home North Brisbane.
For an electrician you can trust to get the job done right, call Armitage Electrical on 1800 230 400 or enquire online here.