Pierlite's Aether LED Troffer offers the latest technology in air purification and lighting for commercial properties – and is now available in Brisbane, fully installed by Armitage Electrical.
While Covid-19 restrictions have disappeared, the virus is still circulating – so do how do you ensure your staff and clients are safe inside your commercial premises?
Here at Armitage Electrical, we use and recommend Pierlite's Aether LED Troffer for commercial premises.
This medical grade air purification system combines two powerful methods – UVC technology and an in-built HEPA filter – to cleanse the air of 99.995% of airborne pathogens. Not to mention the fixture includes LED lights for an energy efficient and bright lighting solution.
Below we explain how this newly launched product (early 2022) effectively strips the air of these virus particles along with some of the system's main benefits.
But first, what is a troffer?
What is an LED Troffer?
A troffer is a rectangular or square light fixture commonly used in commercial premises where there is a modular dropped ceiling grid with 'panels' such as offices, warehouses, retail spaces through to school classrooms.
While the fixture has typically been used to house one or multiple long lightbulbs, the launch of the Aether LED Troffer means that the single fixture serves a dual purpose – air purification and LED lighting.
One of the single biggest advantages of this product is that it can be retrofitted into any building (we cover the 3 different mounting options here).
How does the Aether LED Troffer work?
In addition to the energy efficient lighting, air is constantly being pulled into the patented LED Troffer from the surrounding environment.
Once inside the fitting, UV-C technology and an in-built HEPA filter work together to purify the air.
Here's how:
The air flows into the

UVC LED

disinfection chamber. As the air circulates through the fitting, the viruses and bacteria are inactivated.

The in-built

HEPA filter

traps the airborne contaminants (the inactive viruses and particulate), before the purified and safe air is then released back into the environment.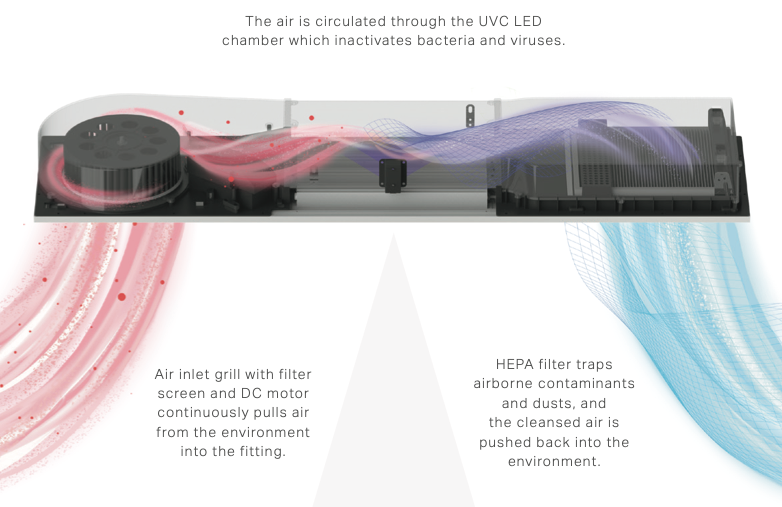 6 Benefits of the Pierlite Aether LED Troffer
Inactivates 99.995% of virus particles

: H13 Medical Grade HEPA Filter with Germagic Technology

Operates quietly

Design is aesthetically pleasing – will blend seamlessly into office spaces

Cyanosis compliant

to AS/NZS1680.2.5

Plug and play

: Engineered to fit standard troffer space. It's fitted with standard flex and plug

Multiple mounting option

s: If you don't have a standard office ceiling, the unit can be suspended or installed to the surface (we cover your mounting options in this blog here)
Installing An Air Purification System
This medical grade air purification system is designed to protect community members in a range of spaces, including schools, medical clinics and office spaces.
The Armitage Electrical team have experience creating negative pressure environments specifically for dental clinics, but also predict that this technology will be snapped up by a much wider range of businesses including schools.
Got a question about how this product might work for your commercial premise? For more info or to request an installation quote, the fully-qualified electricians at Armitage Electrical can assist. Enquire here or call 1800 230 400.

Armitage Electrical are your fully qualified and licensed, trustworthy, professional and reliable electricians North Brisbane.
With all-inclusive up-front pricing, Armitage Electrical provides the highest quality electrical, maintenance or repairs on hot water systems, switchboard and mains upgrades, and pool and shed wiring for your home North Brisbane.
For an electrician you can trust to get the job done right, call Armitage Electrical on 1800 230 400 or enquire online here.